We wish to advise that we are closed over the Christmas & The New Year period from 24th December 2019 until 2nd January 2020
Any enquiries received during this time period will be answered promptly when we return
Best Wishes from all at Southern Office Furniture
How to Create a Collaborative Office
How To Create A Collaborative Office
Humans thrive on social interaction. However, contemporary work patterns and technology have reduced opportunities to 'meet and mingle' with colleagues. This can have a serious impact on levels of job satisfaction, and therefore productivity, engagement and company loyalty.
‍
The importance of collaborative workspaces doesn't end there though. Organisations of all types and sizes can enjoy other key business benefits of encouraging and supporting daily interaction between their employees.
‍
This article explores the reasons to design offices that promote teamwork and good communications, as well as providing ideas on how to deliver collaborative office environments with cost-effective furniture choices.

Creating A Productive Workplace
Offering your employees plenty of opportunities to pool their ideas and even discuss business issues is extremely important for both your business and their workloads. As remote working and reliance on technology have eroded a significant amount of in-person communication and limited idea-sharing opportunities, facilitating daily dialogue by creating a fluid, open-plan office layout, can help address this.
Numerous studies have proven that collaborative offices are not a distraction, but can increase your productivity. When working in a team setting, employees can have far more improved concentration levels which can help their ability to stay on task. Creating an open plan, fluid working area is a great way you can ensure that your business caters for all employee needs for a productive workplace, adding to far more efficient and effective business operations.

How To Create A Collaborative Office
The advantages are clear, so the next question must be how to set up a collaborative office.
‍
First, it's important to mention that open plan and fluid office designs can still provide logical placement of teams and managers. For example, you could purchase bench desks to group particular departments together, or create desk clusters in open plan offices. However, if each department is still in a shared workspace, they can still move around and meet up with colleagues from other departments.
‍
In order to create a modular and responsive office design that can accommodate ever-changing work patterns, you can benefit from a range of versatile office desks that are durable enough to withstand any constant movement. As well as a selection of high-quality, multi purpose office chairs which will certainly prove useful when moving around to your team members' desks.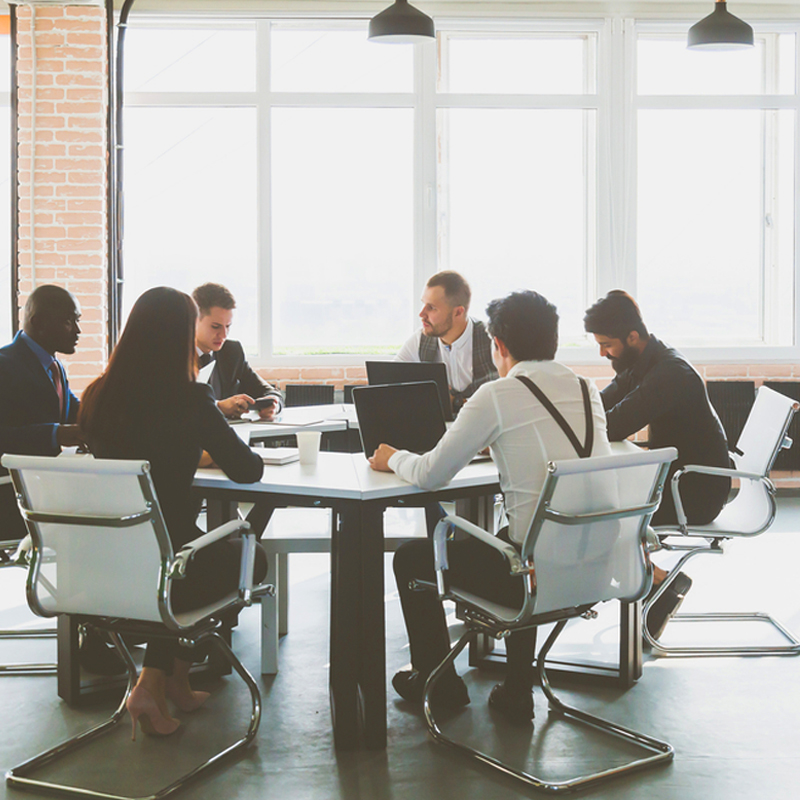 How Workplace Culture Affects Team Spirit
Another benefit of creating a collaborative office for your organisation is that this can be an adaptable and modular workspace, as well as supporting a positive corporate culture.
‍
Office furniture can be arranged, and changed, to match business aims and team dynamics, including meeting accessibility needs to support inclusivity.
‍
Also, it offers you a great way of optimising your office floor space if you now operate flexible work patterns and hot desking. Creative planning in your layout and furniture purchases can make it easy to accommodate fluctuations in demand for office desk space and meeting areas.
‍
Supporting constant collaboration and communication in your work areas also supports team spirit, as your office staff are a more cohesive and united force. Your open-plan office system dismantles 'us and them' boundaries between management staff and their teams, or between departments.
‍
Also, it is harder to overlook staff who are struggling or ineffectual and may need help, if everyone is operating in shared office space!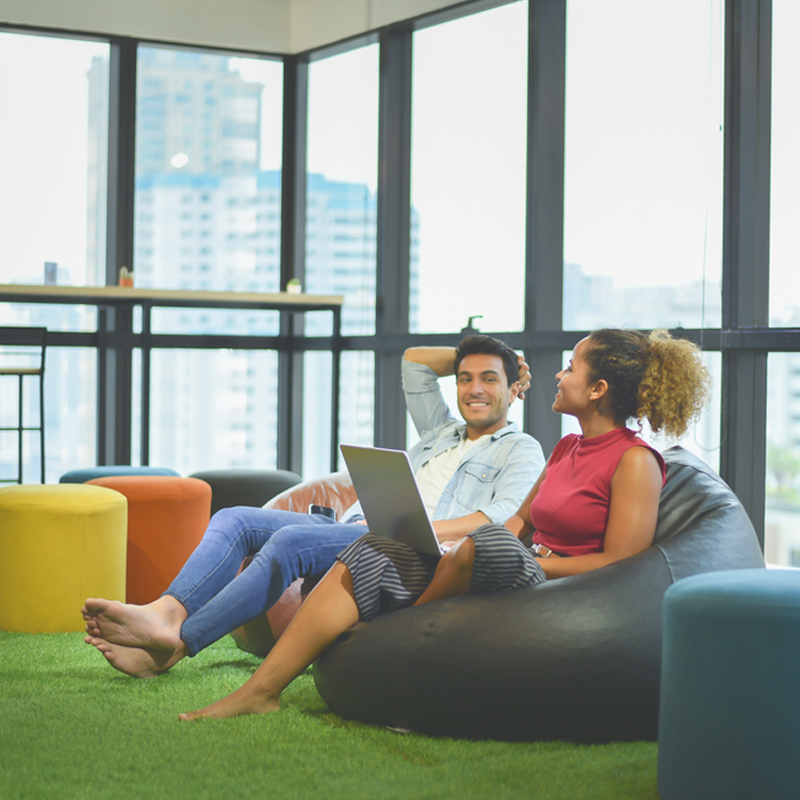 How to Collaborate Using An Open Office
This may seem like common sense, but it can require some planning, especially in complex or under pressure workplaces.  Sometimes, measures need to be put in place to stimulate and support open discussion and idea sharing, even in open-plan offices. This could be as simple as creating social areas using cafe and breakout furniture that enable staff to relax a while, and chat freely.
‍
You can also help elevate these areas by adding cushions, dimmer lighting solutions or plants to create a more inviting space in your office. Even something as simple as using colourful and contemporary breakout chairs and stools for informal office areas can make them pleasant and are a good way to stimulate free discussion.
‍
In some workplaces, staff may need to be actively encouraged to meet up regularly; especially those reliant on remote workers. By setting aside pockets of space to allow for brainstorming and idea sharing, the use of large office tables can be extremely helpful in creating an innovative hotspot for your employees.
‍
One last thing to consider when creating collaborative office plans is that there may still be a need to ring fence one area of your workspace as a quiet zone, with office furniture and a screen to enable privacy and concentration. After all, solo endeavours can still be important when deadlines are imminent!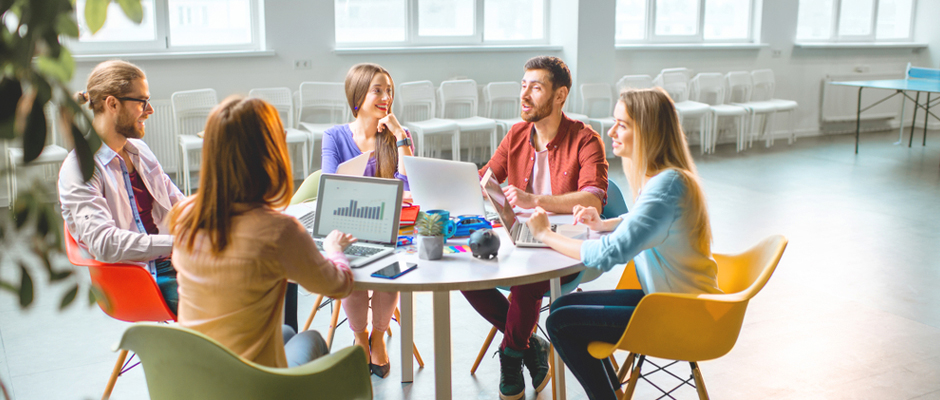 Creating Your Own Collaborative Workspace
With our great range of office furniture to accommodate any type of office, plan out your own collaborative office design and find the perfect solutions here at Southern Office Furniture. If you know exactly what you're looking for or perhaps need assistance on starting your own open working space, don't hesitate to contact our expert and friendly team.