The Complete Guide to Office Desks
The Complete Guide

To Office Desks
Create the perfect space to suit your working style, business and budget with this complete guide to office desks.
‍
Everything in your premises sends a message - whether you realise it or not. And everything within the office contributes to the overall working experience for your staff.† Whether you wish to convey a professional, organised impression, a modern minimalist environment, or a place in which creative minds can flourish, office furniture plays a big part. Desks for the workplace come in all manner of styles and are designed to perform all sorts of functions. Prices vary enormously, as do materials and finishes. Comfort is key as well.
‍
Whether itís a reception desk to greet customers with a great first impression or a desk to encourage collaborative team working, selecting the right furniture is an investment which will shape the style of your office for years to come.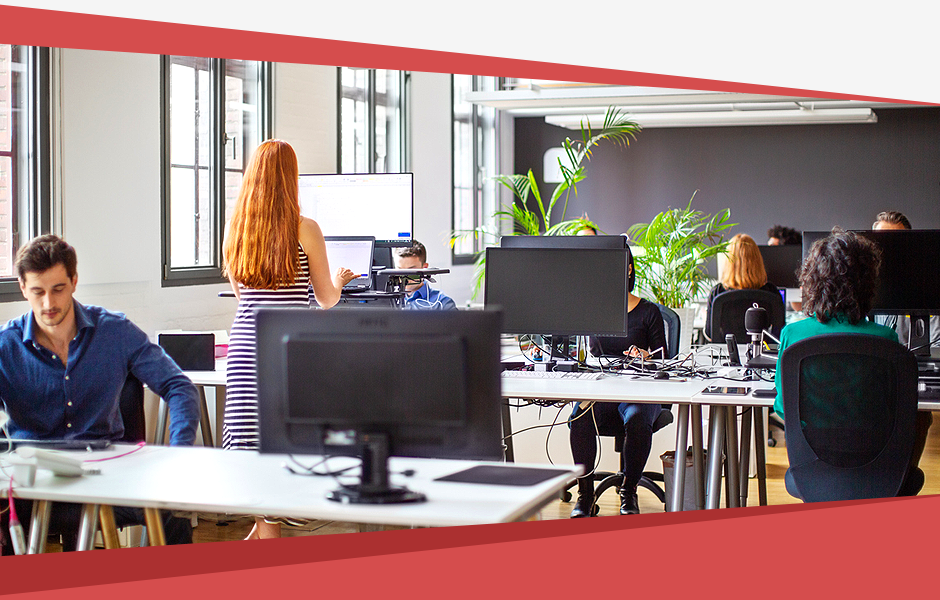 Styles of office desks
Office desks donít just come in a standard square shape with four legs and a small chest of drawers included on one side. Workplaces can be designed with furniture to suit all styles of working and all spaces available.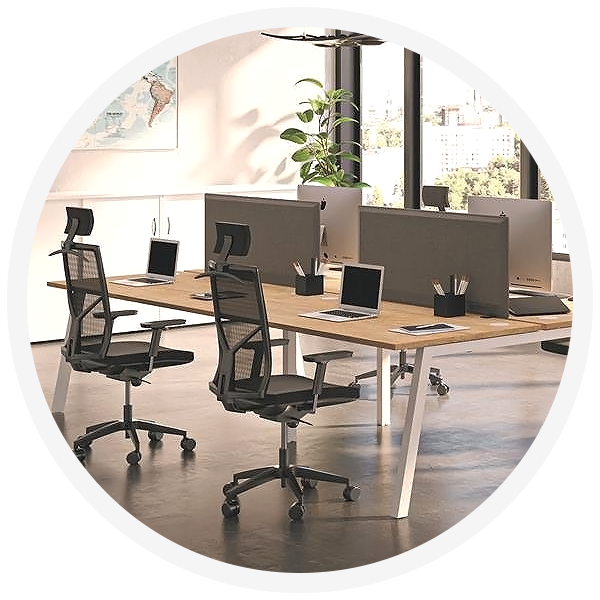 Bench desks
Typically rectangular, bench desks are designed to be laid out in rows. You can easily expand a bank of bench desks by adding a few more. This means they are the ideal choice if you are planning to grow your business and bring in more team members.
‍
Alternatively, bench desks can be laid out back-to-back which is an ideal configuration for bringing teams together or for use as a meeting table.

Wave desks
Wave desks are some of the most common youíll see in the office. Wave desks were originally designed to accommodate the old-style computer monitors which resembled the portable TVs we all had at home until flat screens became the norm. The wave-style desk is still popular because it affords more workspace than a typical rectangular one. It also enables you to swivel and work at different angles to improve movement. A wave desk takes up a little more space because one side of the desk is deeper than the rest, but it offers more legroom and the opportunity to store things underneath.

Radial or corner desk
Office space costs money. You donít want your staff packed in like sardines, but maximising the space available is an important consideration for office planners.
‍
Corner desks occupy the corner of a room or can be arranged to provide square workspaces. A radial desk is very similar but the 90-degree angle is formed by an inner curve. These types of desks typically come with a left or right-hand option and are popular in open-plan offices. You can take a look at all of our radial and corner desks in our standard office desks category.

Height-adjustable desks
With an ergonomic design, height-adjustable desks can rise or be lowered from a seated to standing position. The height adjustment is either done manually or by an electronic mechanism.
‍
Adjustable desks are aimed at improving the comfort of staff by making it easy to avoid sitting down all day. People with back problems often benefit from working from a standing up position for periods.

Reception desks
A reception desk is both a practical place to greet visitors and a space for front-of-house staff to work from.
‍
Reception desks are used in many types of businesses. You may need space for a computer and for storage. You may require room for customers to make payments or fill out forms. If you sell products, you might want a reception desk with a display area built in to showcase your products.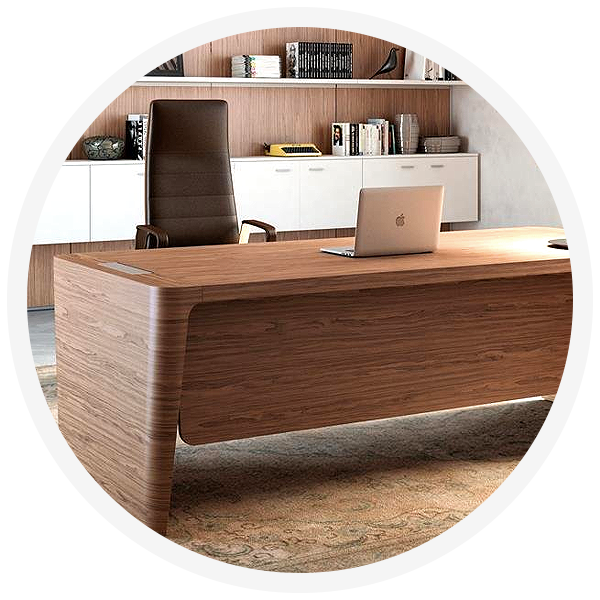 Executive desks
Executive desks are usually larger than the ones listed above and are made from a premium material. They are usually designed to stand alone and fit into a single-person office. Meeting ends can also be added to enlarge the workspace.
‍
Executive desks are available in a number of finishes and the desktops are usually thicker and can be veneered.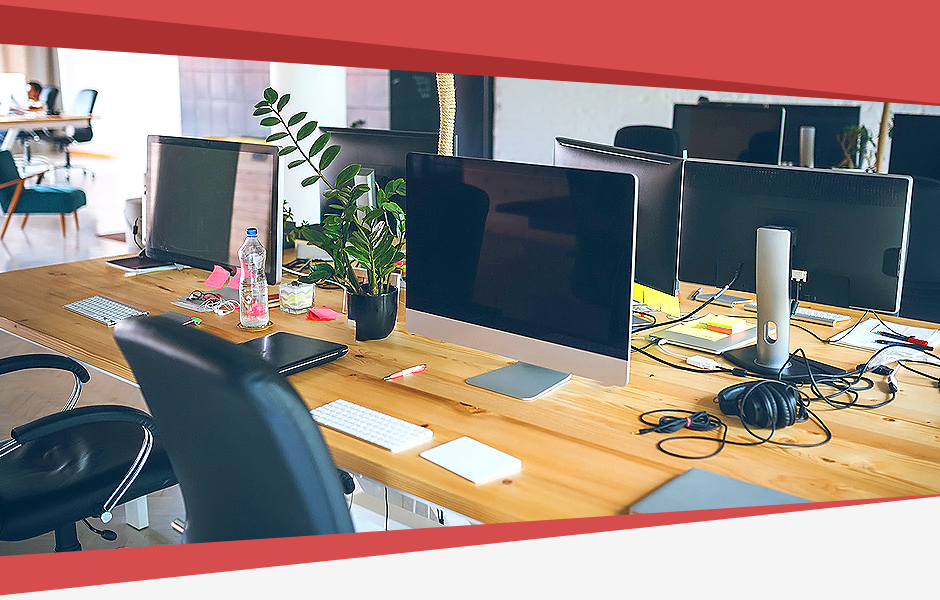 Desk materials and finishes
One of the key considerations when selecting office desks is the material your furniture is made from. Different materials all have advantages and disadvantages in terms of durability, style and price.

Here at Southern Office Furniture our office desks are available in:
‍
Melamine:† We stock a lot of melamine office desks.† Melamine is a thermosetting plastic resin which is hardened by a heating process and applied to wood.† Melamine desks are perfect for the office as they provide the appearance of wood but are lightweight, durable, cost effective and easy to clean. You will find our melamine desks in a few different areas of our site, including: Standard Desks, Quick Delivery Desks, Bench Desks,† Height Adjustable Desks, Melamine Executive Desks, Call Centre Desks and Reception Desks. Many of our melamine desks are offered in a variety of finishes, such as oak, walnut, beech and white.† The desk legs are also often available in different finishes such as white or silver.
‍
Glass: Our glass office desks are also very popular, offering a sleek and minimalist look.† Theyíre great for giving the illusion of space and fit in effortlessly with a contemporary office space.††Glass desks are often available in a variety of colours, such as red, black, white and frosted.† If youíre interested in kitting your office space out with glass desks you should make sure the glass is high quality, tempered safety glass and also scratch proof to ensure longevity of your furniture.† Every glass desk in the Southern Office Furniture online catalogue is manufactured to the highest standards.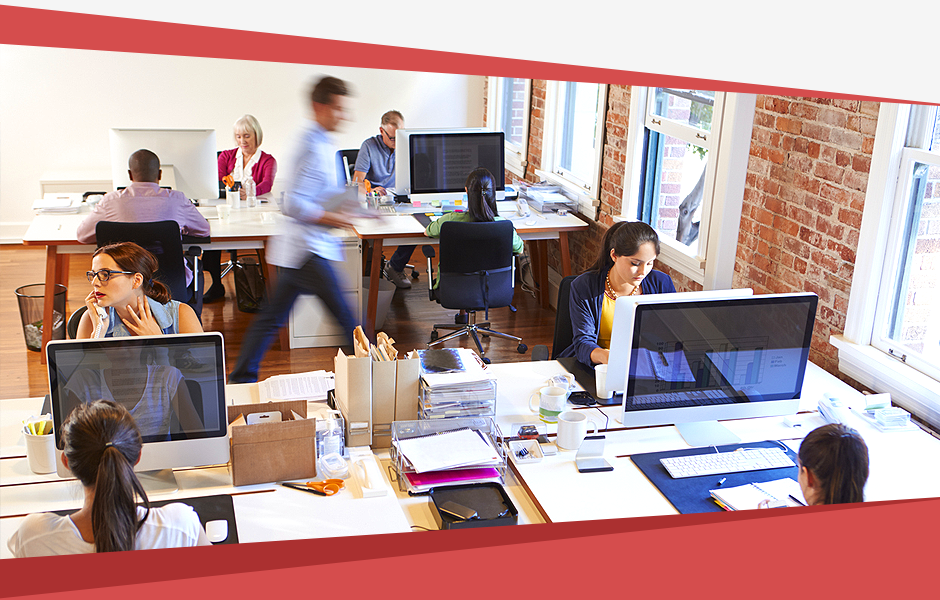 Considerations for choosing the best office desks
There are three key considerations when it comes to selecting the ideal office desks for your work environment. The first is how much space is available. Measure up and draw out a plan on paper. Mark out the locations of windows, cabinets, radiators, photocopiers, doors and fire escapes.
‍
The next most important factor is the budget available. The prices of office furniture vary enormously, so understanding how much you have available to spend will be the key to selecting sizes, styles, materials and finishes. Also, plan for future growth. Think about your long-term space and storage requirements. This may include plans to recruit future staff and having enough desk area to house pieces of office tech you purchase in the future.