We wish to advise that we are closed over the Christmas & The New Year period from 24th December 2019 until 2nd January 2020
Any enquiries received during this time period will be answered promptly when we return
Best Wishes from all at Southern Office Furniture
How to Feng Shui Your Office Desk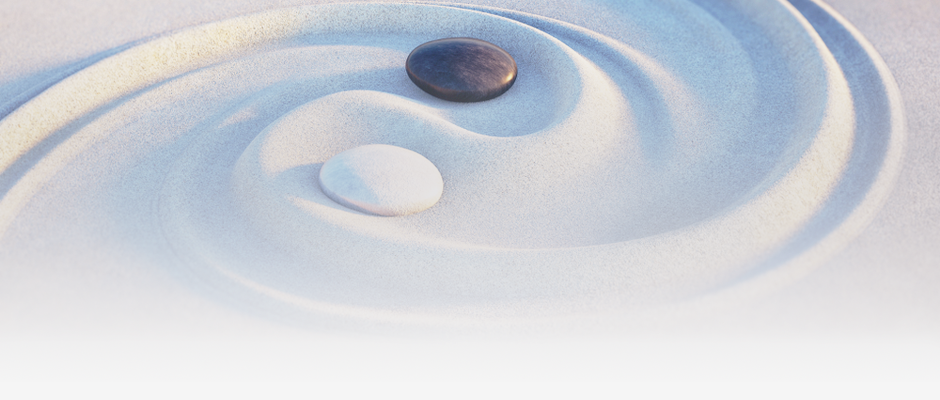 How to
feng shui
your office desk
Since we spend a great deal of time behind our office desks, getting the most out of your workspace is important - it should be a functional and organised space that inspires productivity and creativity.

One way to make your work environment a more calm and balanced space is to use Feng Shui, which translates to wind and water and looks to create inspired spaces in the places that we inhabit, such as offices and our homes. In this article, we are going to discuss how to feng shui your office desk so that you can enjoy a more harmonious way of working.

What is feng shui?
Feng shui is a school of thought, or a philosophy, that focuses on striking a balance in our surroundings to attain harmony with the natural world. At its core, feng shui suggests that all objects have energy forces that can be harnessed to create a more balanced environment. There are a number of principles outlined in the concept of feng shui that facilitate this idea, such as:

The commanding position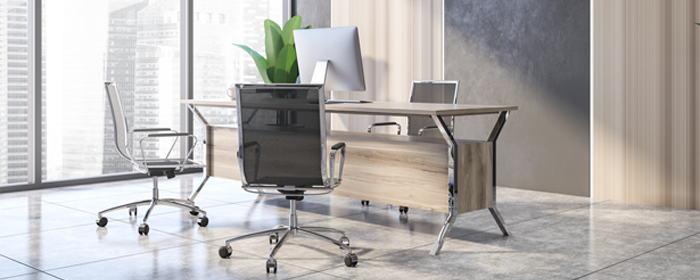 The commanding position in feng shui describes the area of a room that is located farthest from the entryway - ideally, it isnít in line with the entrance. This means that the commanding position is angled diagonally from the doorway, but it should be within the line of sight of it. This should be where you spend the majority of your time when youíre in this room. So in an office space, office desks should ideally be positioned diagonally from the entrance or door.

The bagua
Bagua in feng shui refers to an energy map that covers the entire floor of interior space. It means Ďeight areasí and it stems from Taoist cosmology. In essence, each of the eight areas represents a specific area of your life, such as family, education or career. When adopting feng shui practices, itís suggested that you focus on one area at a time while you work to strengthen the energy found in it. There are several Bagua areas that your room can incorporate, including:

Family, or Zhen


Wealth, or Xun


Health, or Tai Qi


Helpful people, or Qian


Children, or Dui


Knowledge, or Gen


Fame, or Li


Career, or Kan


Relationships, or Kun

The five elements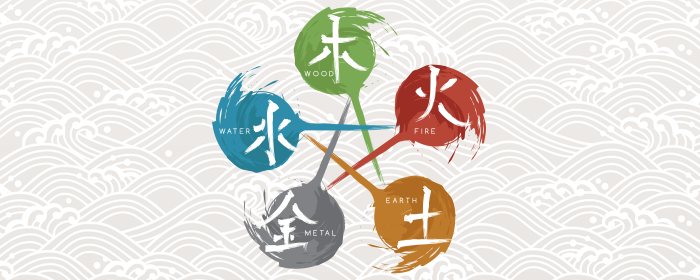 In feng shui, the five elements denote earth, metal, wood, fire and water. These elements work together and synergise within a space to create a completely balanced area. These five elements should be implemented in your working space with Bagua in mind so that you can create a harmonious environment.

How to feng shui your office desk
Your desk is a focal piece of furniture in your office, and it acts as a symbol of your career which makes it prime for feng shui. To strike a balance between happiness and career success, feng shui attempts to invite harmony into your working environment. To help you get started, follow the suggestions below:

Consider colour and material in your office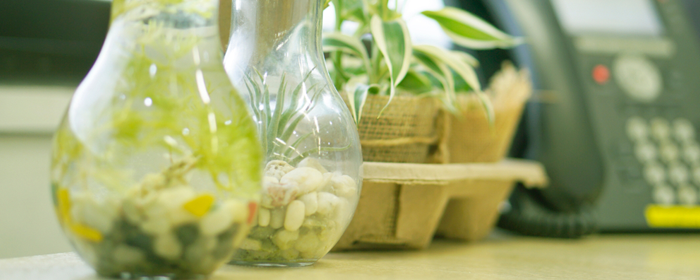 The colour and material of furnishing in your office can have a significant impact on the feng shui. Try to find a style and colour palette that suits your tastes and incorporates the five elements. Below is a breakdown of the different elements and how they relate to materials and colour:

Earth element (good for stability and grounding): The colours for the earth element include brown and neutral tones. Materials should be wooden or composite.

Metal element (good for efficiency and clarity of mind): The colours for the metal element should incorporate white, grey and metallic tones. Materials could include metal or painted wood and composite materials.

Water element (good for networking and workflow): The main colour to use for the water element is black. For materials, consider metal, or dark painted wood or composites.

Wood element (good for growth and activity): The colours to use for the wood element are green and blue.

Fire element (good for inspiration and fame): Fire element colours should be red, with materials consisting of painted wood and composite materials.

Your desk shape matters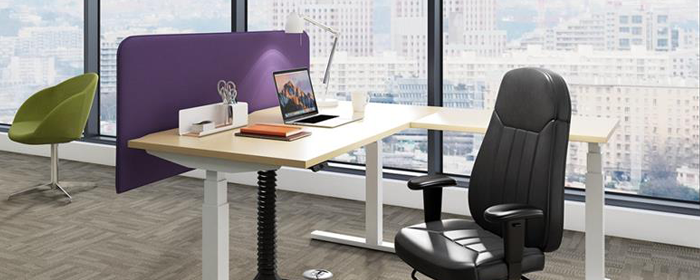 The shape and style of your office desk are important factors for feng shui. The primary consideration should always be whether or not the desk fits the space it inhabits. You should always ensure you have enough space to work, which is why L-shaped desks are a great option because they make practical use of space. Sit Stand desks are another great option for similar reasons.

Think about desk positioning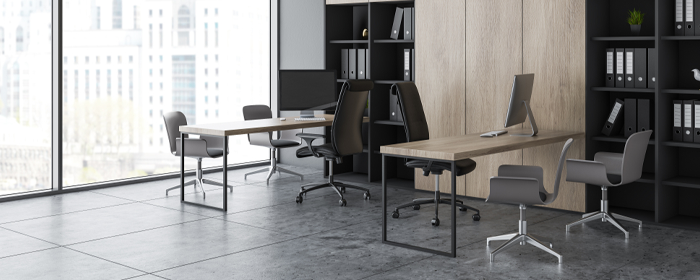 Taking into account the commanding position, itís important that you consider where you situate your desk. You should be able to see the entrance to the room from the desk, but from a diagonal point of view - never directly in front of it. This tends to mean that desks work best in a corner that is diagonal from the door. Alternatively, a mirror can help by reflecting the position of the door if you canít move your desk diagonal to the entrance.

be mindful of clutter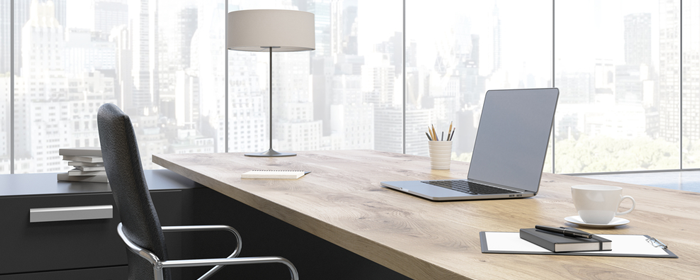 A busy desk isnít necessarily a bad thing for feng shui in your office, but you should be mindful of it. In fact, lots of clutter from a day of working can denote a period of movement and flow, which is a good thing. The problem arises when clutter is left for too long as it shows stagnation in your work. Try to avoid this by keeping your desk clear for the next day by decluttering after youíve finished your work.

Getting the right vibe for your office starts with the right furniture. We have an extensive range of executive desks, office desks and other office furnishings to help you achieve in-office harmony.

Here to help..Call us freephone on 0800 731 4592
We're on hand to offer expert advice to select the best office furniture products for you.
Office furniture
Established in 1996, Southern Office Furniture supply a huge selection of office furniture nationwide.
Our ethos is to provide an extensive and unmatched range of products coupled with personal customer service, to give our clients the very best choice in contemporary and traditional office furniture.
All our prices exclude VAT.
Contact Us
Freephone 0800 731 4592
Online Store Only -
Furniture not available to be viewed
Southern Office Furniture Ltd
277 London Road, Burgess Hill,
West Sussex, RH15 9QU
Registered in England & Wales. Company No. 03262067
VAT No. 684 448495
© 2022 Southern Office Furniture Ltd