Dual Monitor Desks - Frequently Asked Questions
Dual Monitor Desks -
Frequently asked questions
It is a given that nearly all jobs now require interaction with computers in some way, shape, or form. For many of us, the entire workday is spent interacting with computers. Gone are the days when computers were just a peripheral part of the office. They now dominate many offices and workspaces. As a result, dual monitor desks are becoming more popular. 

A dual monitor workstation requires a desk large enough to accommodate two monitors, the user's keyboard, and any other tools required to do the necessary work. At Southern Office Furniture, we carry office desks in a variety of sizes and types. For example:

Standard Office Desks – from single workstations to multi-person stations.  
‍Bench office desks – multi-person workstations that seat workers side-by-side.
‍Height adjustable office desks – for individual workers needing to adjust height throughout the day.
‍Call centre desks – multi-person workstations designed to facilitate clustering.
‍Executive desks – desks for the management team.
‍Glass desks – ultramodern desks featuring glass tops, for single users.
‍Reception desks – single- and multi-person reception desks.

View all of our Office Desks

Dual Monitor Desk FAQs
What are the benefits of having two monitors on a given workstation?
Dual monitors offer a number of benefits. First, they minimise distractions. Dual monitors allow you to place your most important work on your primary screen and secondary work on the other. For example, putting your email inbox on the secondary screen keeps it visible but doesn't require you to pay attention to it until a message arrives. 

A dual monitor set-up is also beneficial in that it leads to more efficient work. There is less opening and closing windows, less manual switching between documents to cut and paste, etc. Last but not least, employees simply find dual monitors more comfortable. Two monitors allow them to keep more windows open at full-size with moving between them a simple matter of shifting the gaze.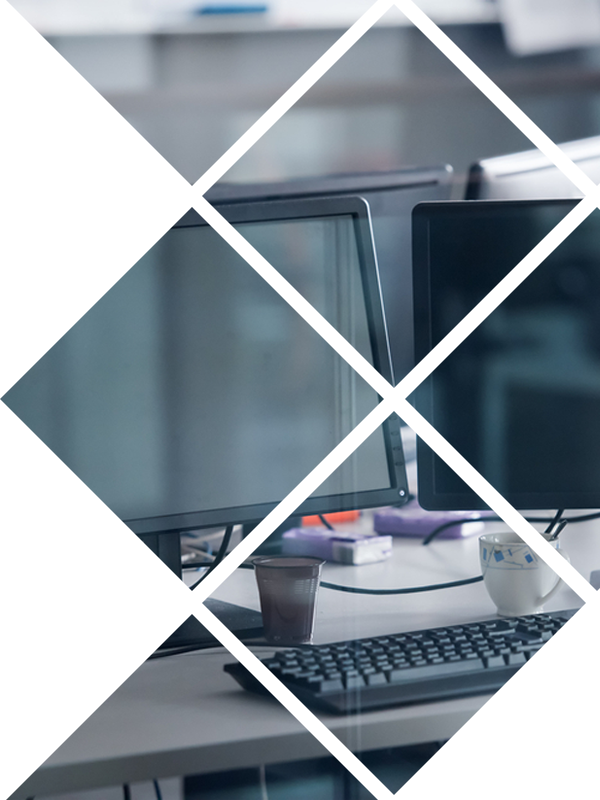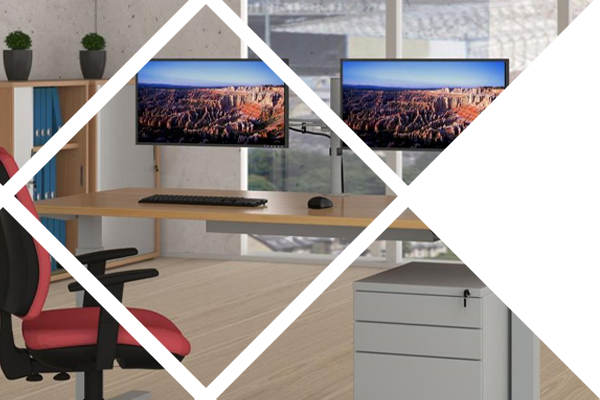 What size desk is required for two monitors?
Choosing desks size with the intent of supporting two monitors depends on the size of the monitors in question. We would recommend a desk no smaller than 1200 x 800mm. A desktop of that size should be able to accommodate two flat screen computer monitors.
What size desk is required for three monitors?
A desktop of just 1200mm wide is not enough to support three monitors comfortably. We suggest a desk 1800 x 800mm would be ideal. This is with the understanding that all three monitors are side-by-side.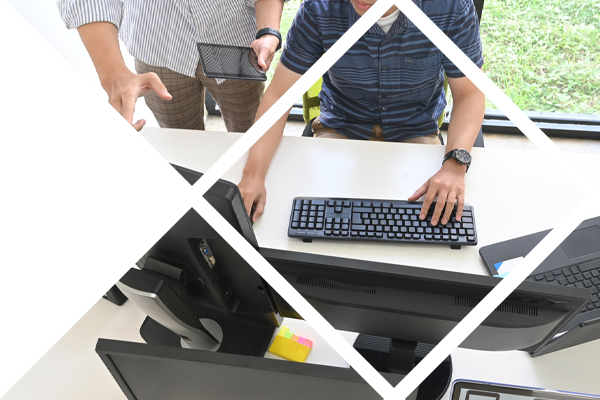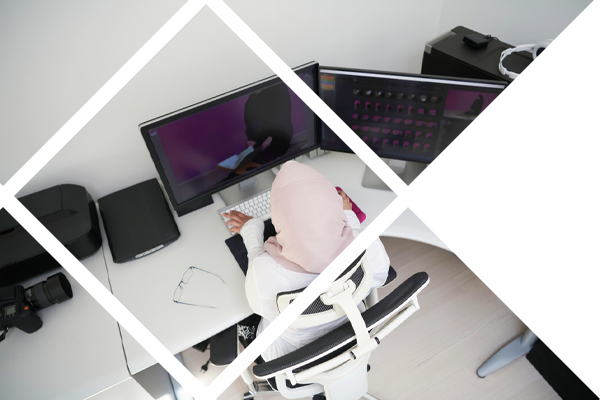 How should a dual monitor workstation be organised?
In order to determine how to organise a dual monitor workstation, you need to consider three things: how often each monitor will be used, the work being done at the workstation, and the user's dominant eye.
Frequency of Use
Assuming both monitors will be used equally, it is best to place them side-by-side with a small gap between the monitors, and positioning yourself in the middle. This allows looking equally at both monitors with just a slight shift in the neck or by adjusting the gaze.

If one monitor is used more frequently than the other, you should position your office chair directly in front of this monitor – just as if you were working with a single monitor workstation. The secondary monitor should be placed to the side, corresponding with your dominant eye. There is plenty of information online describing how you can determine your dominant line of sight. 

As for height and depth, your eyes should be approximately in line with the top of the screen and depth should be measured at an arm's length away.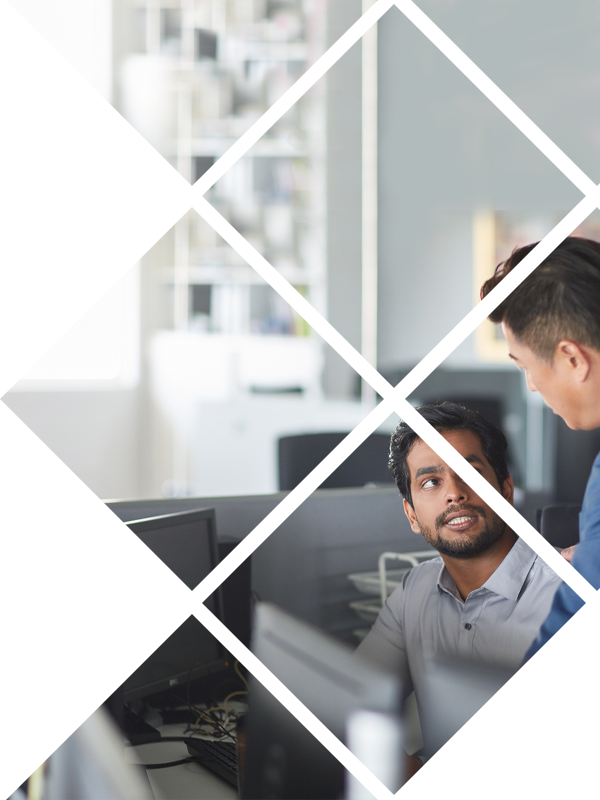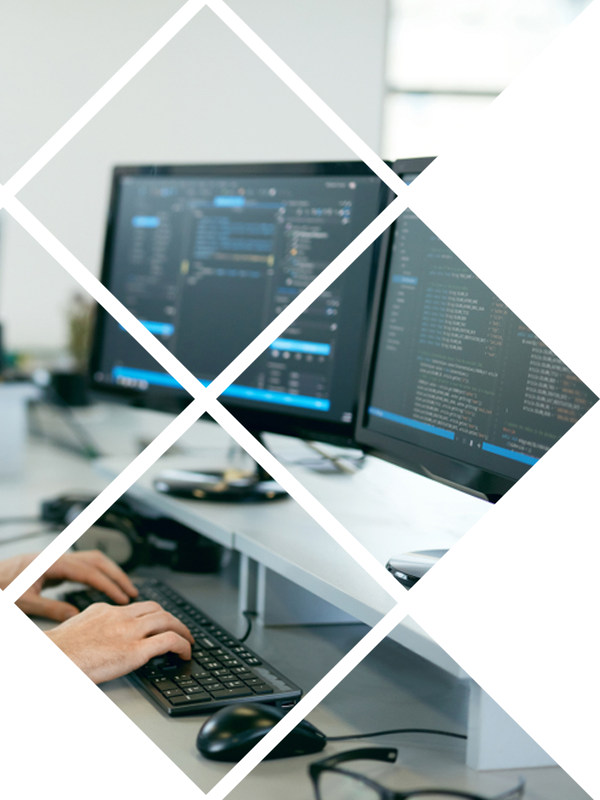 Type of Work Being Done
Some types of office work require working with single documents or windows for extended amounts of time. Because this type of work requires very little head movement, the primary monitor can be flat (in relation to your face) while the other can be either flat or slightly angled. 

If your work requires constantly moving between the two monitors, the flat set up is not recommended. Rather, it is beneficial to slightly angle both monitors with the goal of changing views by slightly rotating your chair. That way, your neck isn't constantly moving back and forth as you change views.

Are there any ergonomic concerns with a two-monitor workstation?
There are some ergonomic concerns related to both employee satisfaction and legislation. In terms of the former, providing an ergonomic desk and chair arrangement makes for happier employees. Happy employees are more likely to be highly productive. 

In terms of the latter, there are a number of important pieces of legislation outlining employer responsibilities related to workplace safety. For example, both the Health and Safety at Work Act and Health and Safety Regulations 1992 stipulate that employers have a responsibility to take all reasonable measures to prevent harm to their employees during the course of their daily work.

This includes providing chairs and desks in an ergonomic arrangement that does not require an undue amount of stretching, twisting, leaning, etc. throughout the day.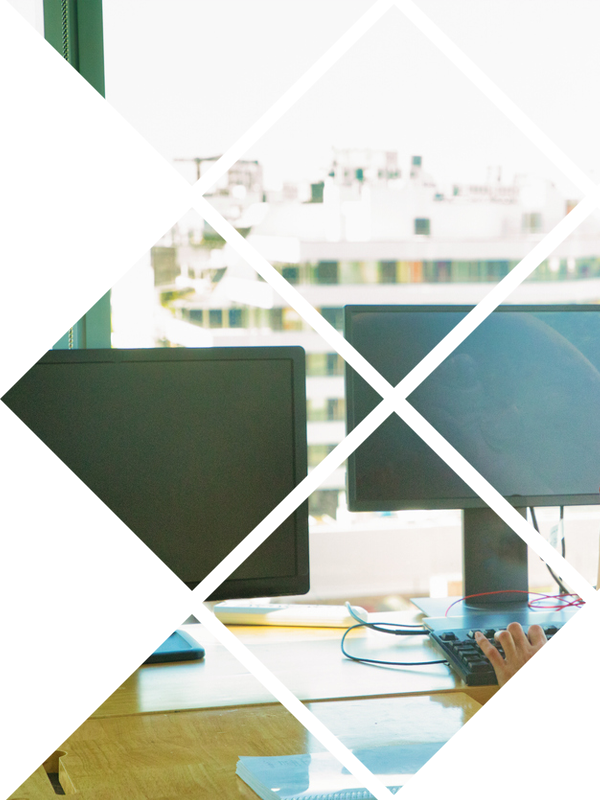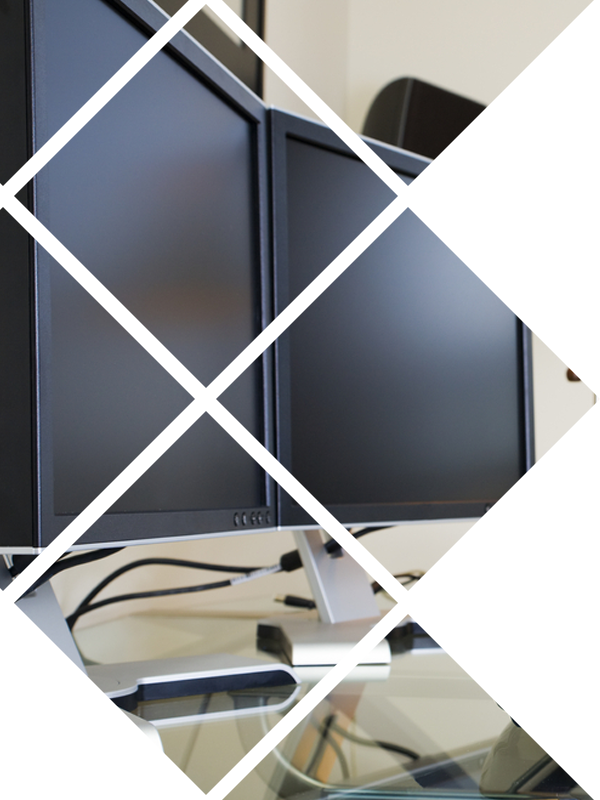 What should I expect to pay for desks large enough to accommodate two monitors?
It is not possible for us to offer hard and fast pricing on desks capable of accommodating two monitors. Costs vary based on materials, features, design, and size. Needless to say, larger desks will cost more than their smaller counterparts. The best way for you to understand pricing is to browse our site and contact us and speak with one of our specialists. 

Dual monitor workstations are becoming increasingly more popular. It is no surprise, given how much we rely on computers for day-to-day business activities.